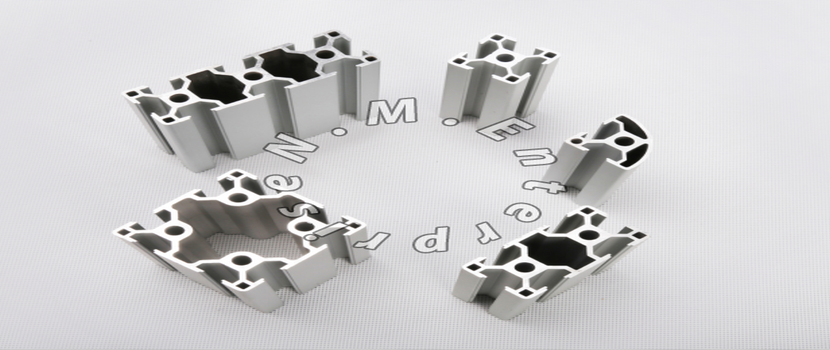 Aluminium profiles are known for a number of features that make them stand out. They are used for the installation of various types of elements like LED strip lights. Whether you are in the hospitality industry, healthcare industry, or any other industry, aluminium profiles can be used for preventing any type of contact damage. They can be of different shapes and types depending on your requirements for the installation, space, and type of lights. They are made using aluminium alloy which gives them a very durable and strong natural quality. Moreover, they are moisture-resistance and do not get damaged due to moisture.
Aluminium profile sections are used for a variety of applications. One can use them in the transportation industry for engine blocks, roof rails, panels, transmission, etc. They can also be used in automobile radiators, condenser tubes, housing coaxial cables, construction, etc. You can get in touch with the aluminium profile sections suppliers in Ahmedabad to get your aluminium profiles at a competitive price. If you are also planning to purchase aluminium profile sections in Ahmedabad, here are some of the amazing features that you can get in them.
Corrosion Proof
The first feature that makes aluminium profiles stand out is that they are corrosion-resistant. This is because they are made of aluminium alloy which totally resists moisture. IT does not get damaged because of contact with water or moisture, thus, does not corrode. This makes it even more durable and long lasting.
Excellent Quality
The quality of aluminium profile section is unmatched. They are made from the supreme grade aluminium alloy material which gives them a sturdy finish. Most of the aluminium profile sections suppliers in Ahmedabad make sure to stringently examine the quality of the aluminium to fulfill their promise of excellent quality.
Fine Finish
We all are aware that aluminium has a very fine finish. But the aluminium profile sections makes make sure to add a touch of finish by polishing and rubbing the material. This makes the profiles shinier and more attractive.
Great Strength
Strength is the one thing that one should be checking when buying aluminium profile sections. Owing to the fact that the aluminium profile sections are made from this alloy, they have a longer life due to the great strength that aluminium material possesses.
Great Shape (Modular Dimensions) custom construction
The next feature of aluminium profile sections is that it has a great shape. Moreover, they also have a modular dimension. They can be in all types of regular shapes like square, rectangle, triangle, cone, etc. As aluminium is a highly malleable alloy, this quality also helps in providing great shapes to the extrusions or aluminium profiles. You can even get custom construction for your desired shape.
Great Dimensional Tolerance
Owing to the fabrication process that aluminium alloy undergoes for its making and taking the dye's shape, they have an exceptional dimensional tolerance. The indirect press technology also helps in adding to the dimensional tolerance of the profile sections.